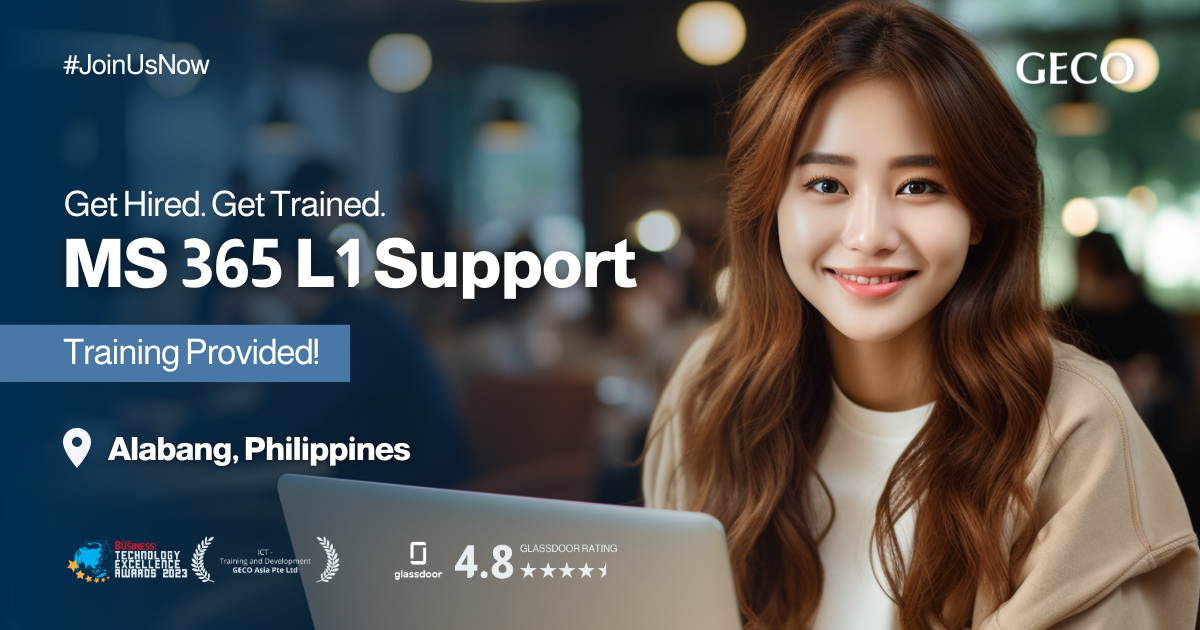 MS 365 L1 Support - Training Provided
Exciting news! Are you ready to take your career to the next level? Our company is looking for talented individuals who are eager to learn and grow with us. As one of our selected candidates, you will receive comprehensive training on cutting-edge Microsoft technologies.
The best part? Our roles are based in the Philippines and support a work-from-home model during training, giving you the flexibility to work from anywhere. With this opportunity, you can upskill today and future-proof your career in an ever-evolving industry.
Don't miss out on this incredible chance to advance your career and work on exciting projects around the world. Apply now and start your journey towards a bright and fulfilling future!
KEY RESULTS AREAS:
1. Help Desk Task Proficiency
a. Knowledgeable in MS Office Applications;
b. Knowledgeable in PC Operating System
c. Knowledgeable in Windows Server Operating System
d. Monitor assigned task(s) including the scheduled reports globally;
e. Able to provide courteous and quick response to customers asking help via phone, email, remote access, or onsite support;
f. Ability to familiarize themselves with the research and information resources and knowledge bases at hand.
g. Ready to research questions using a variety of manuals and resources, and to work with other Help Desk Support Engineers and IT colleagues in answering any customer's question.
Requirements:
a. Education
● Bachelor's or College degree in Computer Science, Computer Engineering,
Information Technology and/or related field. (Fresh Graduates and career shifter are encourage to apply)
b. Experience
● 0-3 years of experience in Help Desk tasks including but not limited to problem tracking, phone consulting, voicemail consulting among others.
● Exposure in technical set-up, configuration and maintenance of different applications, network environments, software tools an advantage.
● Exposure in dealing and talking with end customers.
c. Skills
● Organized and able to set priorities;
● Strong interpersonal skills and ability to deal effectively in a team environment;
● Ability to grasp system information and technical functions and ability to explain them into layman terms/words for easy understanding of end-customers;
● Strong verbal and written communication skills;
● Ability to organize, prioritize and schedule work assignments;
● Has strong customer service orientation;
● Proficient in computer operations – knowledgeable with MS Office, Windows operating systems.
d. Work hours and working conditions
● To provide 24x7 services to the company, Global Help Desk will work on different
shifts
● Some days may be heavy while others may be light. Longer hours may be required
when a need arises.
Join our team and contribute to shaping the future of our company's MS 365 Desk Support's while working in a dynamic and collaborative environment.